Bulletin Board
2014 Infrastructure projects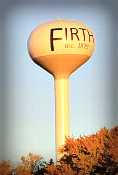 The Village undertook several larger scale infrastructure projects in 2014:
JR Stelzer Co. completed an overhaul on the Water tower.  The project included cleaning the exterior and the interior of the bowl, as well as repairing damaged spots and a complete exterior paint job.  The Village Board voted to place the Firth name on the east and west sides of the tower so it is now visable from the Firth Road from both directions.  
Paver's Inc. milled and overlaid 3 blocks of Main Street by the Coop.  This was a much needed upgrade to the street.  As part of the project, the Village had an island installed south of the C-store gas pumps.  This has helped to define the intersection and make it safer.
Three blocks of sewer main from 3rd Street to 7th Street east of Russell Street were replaced.  
Snow parking policy
In the event of snow, please remember:
"It shall be unlawful to park or stand any vehicle on any street or alley in the residential district in the Village at any time within 24 hours after a snowfall of one (1) inch or more has accorred within a 24 hour period unless snow has been removed within that time.  Any person parking a vehicle in violations of this section shall be subject to issuance of a citation by the Sheriff or having such vehicle towed at owner's expense."
Firth Municipal Code Section 3-208
2015 proposed infrastructure projects
The Village Board is looking to overhaul the current sewer lift station which was last remodled in the early 80's.  This highly important equipment needs to be brought up to current standards.  The Village has applied for Community Block Development Grant funds (which will fund a portion of the project.)  The project will also include installing rip-rap around the lagoons.  Further details for the project will be shared as they become available.
The Village purchased a sewer jetter in 2014.  Jetting the sewer lines is now routine maintenance twice a year.  This will help to keep the sewer lines in the best working order possible.