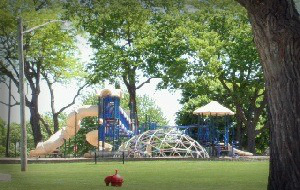 The Village Park encompasses a full village block and is located across from the business district (between Nemaha & May Streets and 3rd & 4th Streets.) The park boasts two park shelters with charcoal grills and picnic tables, an awesome playground, splash pad and basketball court constructed in 2016, a gazebo and lots of shade and green space.  (Park shelters are available on a first-come first-served basis - must be physically present to hold a shelter.  Picnic tables are not available to be loaned out.) The 2014 Firth Master Park Plan includes further upgrades to the main park as well as the ball field complex. These improvements will include walking trails through the park, additional parking, exercise stations, lighting, etc.
The park is open during daylight hours.  There is no fee to use the park. 
The 2020 Splash Pad season starts Memorial Day weekend.
Hours of Operation:
Monday: Closed for Maintenance
Tuesday-Friday:  12:00pm-7:00pm
Saturday: 12:00pm-7:00pm
Sunday:  1:00pm-7:00pm
* Splash pad will be operational on Memorial Day.  It will be closed all other Mondays through the season.
* The Village Board reserves the right to close the Splash Pad at any time, for any reason.